References & Testimonials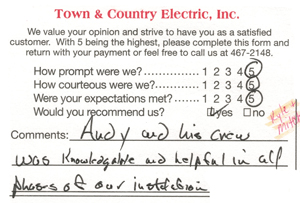 "...excellent service..."
Dec 13, 2012
Andy Ward, Pres.
Town & Country Electric
Dear Sir:
We are first time customers of your company. After receiving a referral from Gary Christensen of Johnson Electric, we decided to give your company a try, for what we perceived as an emergency.
I just wanted to express my appreciation at the service Town & Country Electric provided a couple of weeks ago at a small house I own with a couple of partners in N Nampa.
Town and Country Electric has been our electrical contractor on various jobs, commercial and agricultural, and on lighting and power at our shop. We enjoy working with them.
A couple weeks ago in the midst of rather hot weather our church was faced with a problem involving our lawn irrigation pump.
I would like to commend you and Town and Country Electric for a flawless test (of the fire alarm system) and appreciate all of your efforts to make the testing of the system run smoothly.
Thank you so much for your recent help for my out-of-state client helping him disconnect his generator.
I appreciate your quick and courteous service!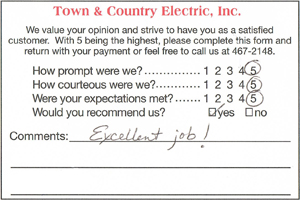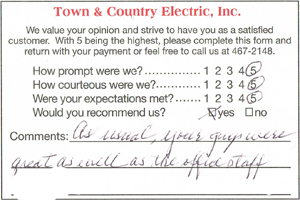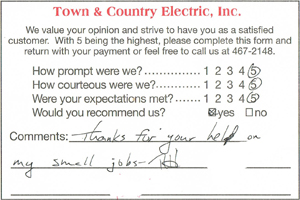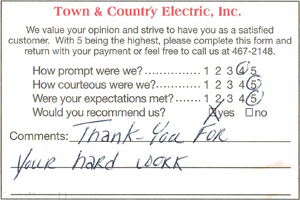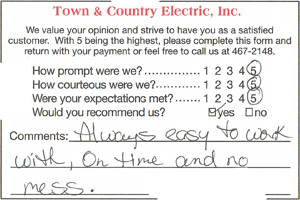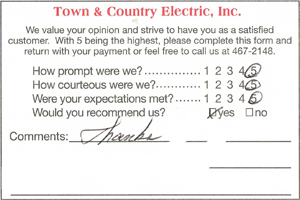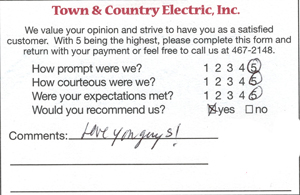 "...professional work..."
Hello,
We would like to take this opportunity to thank your employee for the professional work that he performed at our home.
I would recommend Town & Country Electric for any and all electrical needs.
I've worked with them directly on numerous projects over the past 11 years.
Personally, my connection with the Ward Family goes back to 1964... I have always held all members of the Ward Family in high esteem and have marveled at how they have been used over the years to create better communities and better families within those communiities...
Thank you for the prompt and friendly service! It is so nice to be able to trust someone through their actions and caring way. God bless!
Just a short note to personally and sincerely thank you for fixing the problem we had with our lighting.
I appreciate your professional and friendly attitude and I am very pleased with your work. Thank you again.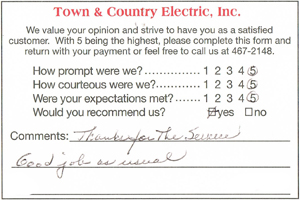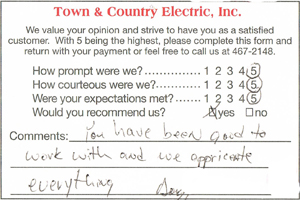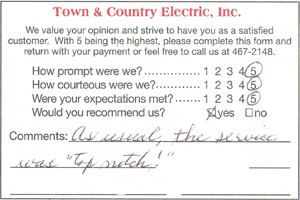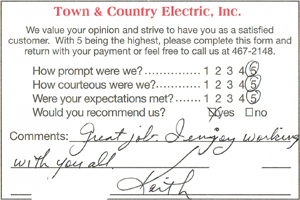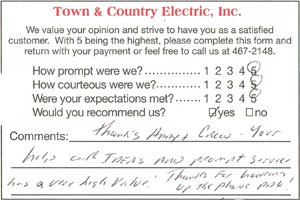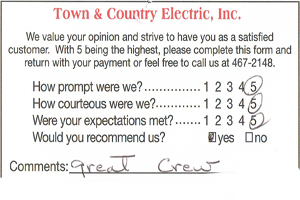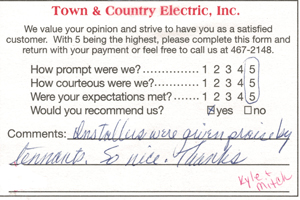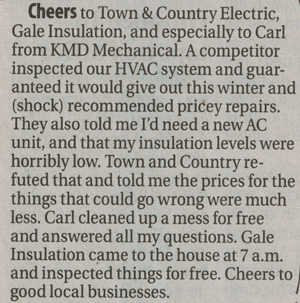 "You certainly do it right."
Mr. Ward:
Thank you for contacting me concerning my recent electrical problems. I was going to write to you anyway.
We have used Town and Country Electric as our electrical contractor on at least five dairies and have been very satisfied with their skills, knowledge and work ethic.
I was very pleased with your quick service.
The electrician did a good job in taking care of this problem. Thanks.
I would like to say that your electrician worked very hard the first day digging the trench through the lava rock. Everything looks great.
I would like to thank your company for the prompt professional attention I received.
When your electrician was here he went out of his way to greatly represent your company.